Blue O Two
The crew of the blue o two fleet of luxury liveaboard dive boats welcomes you aboard as you prepare to travel the Egyptian Red Sea in comfort, style, and safety.  This isn't your typical vacation resort or rental, but a liveaboard vacation package in Egypt might , with its miles of beautiful coral reef, amazing diversity of marine life, and numerous wrecks, be just what the doctor ordered. The Red Sea is a spectacular marine paradise that provides countless opportunities for some of the most amazing scuba diving in the world. Whether you are a novice or experienced diver, blue o two offers a variety of exciting itineraries that will make your scuba diving experience in the Red Sea truly memorable.
Lying between Asia and Africa, the Red Sea, also known as the Arabian Gulf, is an inlet of the India Ocean. The World Wildlife Fund prioritized the Red Sea as a Global 200 ecoregion for conservation purposes. The rich ecosystem of the Red Sea that lies in the warm tropical waters beneath the crystal blue surface includes more than 1,100 species of fish, including some 44 shark species alone and 200 species of hard and soft corals. An expansive coral reef that extends along the coastline contributes to the amazing diversity of marine life in the Red Sea region.
The fleet of blue o two's four award-winning liveaboard dive boats, M/Y blue Fin, M/Y blue Horizon, M/Y blue Melody, and M/Y blue Voyager, departs weekly from Hurghada, Port Ghalib, and Marsa Alam in the Egyptian Red Sea. During each 7-day excursion you will enjoy five full days of diving as well as another half-day of diving on the last day at sea prior to returning to port.  Weather and sea conditions permitting, you will be able to make up to four dives on each full day. Expert dive guides are available to provide informative dive briefings and to help you develop skills in the area of diving that is of particular interest to you.
The average water temperatures of the Red Sea vary throughout the year. During the summer months water temperatures can range from 78°-83°F (25°-28°C) while the rest of the year they range between 68°-75°F (20°-24°C). Surface temperatures can range from 86°-95°F (30°-35°C) during the summer months of July-September, and from 63°-68°F (17°-20°C) over the winter months of December to March. Because of the number of dives you will be making each day it is recommended that you wear a wetsuit. From December through March it is suggested that you use a 5 mm. wetsuit. From June through September a 3 mm. wetsuit should be sufficient, and a 4 mm. wetsuit should be sufficient for the remaining months of April, May, October, and November.
Regardless of the time of year, always remember to get travel insurance for international trips. You never know what may happen between booking day and travel day and travel insurance is not expensive.
The blue Horizon is a floating vacation resort. Traveling to both the north and south of the Egyptian Red Sea, the range of blue o two scuba diving itineraries offers something for divers of all levels of experience. In addition to various standard itineraries that cater to a variety of interests, blue o two also offers five specialized itineraries that let you focus your scuba diving adventure on a particular specialty, such as shark or wreck diving. It is important to note that all routes taken and dive sites are subject to weather conditions in the Red Sea; the Captain and dive guide use their best discretion when selecting the itinerary. In addition, scuba diving, night diving, and snorkeling activities may be limited by local authorities at some dive sites.
Covering the very best the Egyptian Red Sea has to offer, blue o two has put together what they call their Famous Five itineraries: Brother Islands and Elphinstone Reef, Daedalus Reef and St. John's Reef, Deep South Safari, Northern Wrecks and Reefs, and Simply the Best. Brothers and Elphinstone are considered two of the finest dive sites in the Red Sea. The Brother Islands are part of a protected marine park, and offer wall diving, wreck diving, an abundance of marine life, and breathtaking underwater scenery. The legendary and amazing Elphinstone Reef is covered in hard and soft corals, and is frequented by pelagic fish that come to visit.
The Daedalus Reef and St. John's Reef itinerary takes you on an exploration of the beautiful southern Red Sea, and includes a visit to the protected Daedalus Reef Marine Park. You will enjoy an abundance of marine life and amazing underwater scenery as you dive remote Daedalus Reef with its hard and soft coral formations. The Red Sea's famous sharks may even make an occasional appearance.
For divers looking to experience untouched parts of the Red Sea, the Deep South Safari is the itinerary for them. Big drop offs covered with huge gorgonians and vibrant soft corals make this excursion a bit more challenging. On this trip you will dive a variety of unique dive sites on the St. John's Reef plateau as well as that of Fury Shoal, where you will experience some very interesting and unusual reef formations.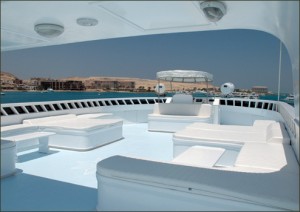 All of the Blue O Two yachts are floating vacation resorts. The Northern Wrecks and Reefs itinerary is ideal for beginning scuba divers as well as for those who have never been to the Red Sea. On this itinerary you will dive famous wrecks, including those at the Abu Nuhas Ship's Graveyard and the SS Thistlegorm. In addition, you will also explore pristine reefs and dive walls such as Sha'ab Mahmoud.
More experienced divers will enjoy the Simply the Best itinerary, which takes in the Brother Islands Marine Park, the Daedalus Reef Marine Park, and the amazing Elphinstone Reef. This excursion offers challenging dives where you will experience spectacular coral walls and an abundance of large fish.
Blue o two's specialty itineraries let you focus on one specific area of interest. The Best of Wrecks itinerary is tailored to scuba divers who love exploring wrecks. Prior to diving, you will have the opportunity to learn about the history of the wrecks and examine detailed plans and images of them. On this trip you will scuba dive the Red Sea's most famous wrecks including the SS Thistlegorm, the Salem Express, and the Sha'ab Abu Nuhas dive site, a reef with five wrecks on it.
The HAYAH Reef Clean-up trip is another specialty dive excursion that is offered. HEPCA, the Hurghada Environmental Protection and Conservation Association, is running a very ambitious environmental project called HAYAH, which means Life in Arabic. The aim of this project is to raise awareness, educate, and foster responsibility and active participation in preserving the Red Sea. On this excursion you will be involved in cleaning up reefs in the northern Red Sea that are considered to be problematic, thereby making a real contribution to preserving this unique ecosystem. In addition to giving back to the marine environment, you will experience wreck and wall diving and see beautiful corals, colorful fish, and large schooling pelagics.
Three distinct "In Focus" itineraries provide divers with the opportunity to enjoy a week-long specialized photography workshop where you will capture a variety of subjects including wrecks, reefs, corals, and marine life. If you want to experience some of the best Red Sea diving and also improve your underwater photography skills, you will want to choose one of these itineraries that combine the dive expertise of blue o two with the photography experience of Ocean Visions Photography Academy: Red Sea North with Ocean Visions, Red Sea South with Ocean Visions, or Red Sea Tiran with Ocean Visions.
The Red Sea North with Ocean Visions itinerary will let you capture diverse subjects, including wrecks, corals, reefs, and micro- and macro-marine life, as you dive along the beautiful reef of the Ras Mohamed National Park and a variety of other sites. The Red Sea South with Ocean Visions itinerary visits such famous reefs as St. John's Caves and Fury Shoal. The underwater landscapes are spectacular; you will experience incredible drop offs, soft coral reef formations and hard coral gardens. You will thrill to the amazing fish life on the reefs and the visiting pelagics. The Red Sea Tiran with Ocean Visions takes you through the Strait of Tiran. Visiting such dive sites as Sha'ab El Erg and Sha'ab Abu Nuhas, as well as various reefs such as Gordon, Woodhouse, and Thomas, you will explore coral-covered walls, shark reefs, and plateaus. Look for gorgonian fans, eels, groupers, numerous other reef fish, and large pelagics.
If you are looking to learn more about sharks, and you want to stay on a floating vacation resort , you will want to travel on one of blue o two's four Project Shark itineraries: Project Shark: Brothers and Elphinstone; Project Shark: Daedalus and St. John's; Project Shark: Deep South; or Project Shark: Simply the Best. Project Shark aims to educate divers on the global issues sharks face. You will experience close encounters with sharks, Manta Rays, and Whale Sharks. In addition, you will develop skills in the study of Marine Biology, as you observe sharks in their natural habitat, collect data, and identify species. These itineraries also include amazing scuba diving at the Brother Islands, Elphinstone, and Daedalus Reefs. To maximize your chance of observing these magnificent creatures in their natural habitat, these itineraries are traveled between the months of April and June, and again from September through December.
Both entry level and advanced technical divers will enjoy blue o two's RedTec Technical Diving itinerary. This specialty trip offers a range of technical courses and mini-workshops, with two planned unlimited dives each day. The highlight of this trip is scuba diving the wreck of the Al Qamar Al Saudi Al Misri, a 410-foot long (125 m.) Egyptian passenger ferry that sank in 1994 as a result of an explosion in the ship's engine room. Another dive site on this technical diving itinerary is world-renowned Ras Mohamed, where you will experience dramatic vertical walls and drift diving. Here you will dive another wreck, that of the cargo ship Jolanda, whose remains at the bottom of the sea include toilets and bath tubs. This specialty itinerary requires that divers have a certification of a PADI Advanced Open Water Diver or equivalent, and a minimum of 100 logged dives.
Blue o two offers several other amazing itineraries. Best of Brothers combines wreck and reef diving to give divers an opportunity to explore the Brother Islands and experience the pristine coral walls around both Big Brother and Little Brother Islands. You will dive the wrecks of the Numidia and the Aida off Big Brother and enjoy plentiful marine life off Little Brother. Look for colorful soft and hard corals and forests of fan corals. At the right time of year you will spot Hammerhead Sharks, Grey Sharks, Thresher Sharks, and White-tipped Reef Sharks.
The Deep South Borderlands itinerary takes you south of St. John's Reef to where few other liveaboards travel: to solitary and pristine dive sites near the Egypt/Sudan border. Those who have previously experienced scuba diving in the Red Sea will enjoy this reef-based itinerary that allows many of the dives to be made directly from the mother ship. You may visit such dive sites as the reef at Habili Abu Fandera where you will see schools of Barracuda, Jacks, and Tuna, or the cluster of pinnacles at Habili Ohrob with its vibrant corals and large schools of fish.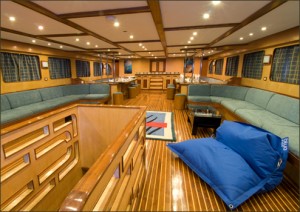 When you travel the North & Brothers itinerary, you will experience two of the most amazing scuba diving sites in the Red Sea. You will enjoy excellent wreck dives in the Northern part of this itinerary. Diving at the Brother Islands lets divers enjoy spectacular underwater scenery, more wreck diving, wall diving, and an abundance of marine life. One dive site you may visit is the Sha'ab Abu Nuhas dive site, known as the Ships Graveyard, so named for the four wrecks in close proximity of each other at the bottom of a steep sloping reef. Vibrant corals, colorful fish, and night critters add to the diversity of your experience.
A visit to the Ras Mohammed National Marine Park adds to the enjoyment of blue o two's North & Ras Mohammed itinerary. In addition to traveling the Northern Wrecks and Reefs itinerary, you will visit this beautiful marine park with its variety of dive adventures. You may dive scenic plateaus as well as huge drop offs that descend to the depths of the sea. The wall here presents some amazing drift diving as well, although the strong currents here make this dive appropriate for advanced scuba divers. Dive sites you may experience on this itinerary include Small Crack, Gubal Island, and Shag Rock.
The Strait of Tiran & North itinerary is similar to the North & Ras Mohommed itinerary. This trip also allows you to enjoy the pristine coral reefs of Tiran. Located at the entrance to the Gulf of Aqaba, the Tiran dive area has four main reefs that form the top of an underwater bridge. World famous for the amazing diversity of corals, these reefs are named after four British cartographers: Jackson, Woodhouse, Thomas, and Gordon. Large pelagic fish frequent these waters thanks to the strong currents in this area. On the Strait of Tiran and Brothers itinerary, you will visit the reefs in the Strait of Tiran and visit a variety of world renowned dive sites at Brother Islands. Wall diving, wrecks, canyons, and plateaus, as well as a huge variety of marine life that includes sharks, rays and other large pelagic fish, all combine to make this excursion truly memorable.
The Best of the Red Sea itinerary takes you to some of the most famous dive sites in the world, including Elphinstone Reef, Daedalus Reef, Rocky Island, and the Island of Zabargad. The north and south plateaus of Elphinstone are covered with hard and soft corals. In contrast to this is the sheer wall and strong currents you will experience on your amazing drift dive at Daedalus Reef, located south of the Brother Islands. An enormous mountain rising out of the water characterizes the Island of Zabargad, which, with its lagoon, circular reef, and wrecks make for a memorable dive during which you will see a variety of colorful corals and reef fish. The fringing reef at Rocky Island encircles the island's perimeter and drops off to the blue. At depths of no more than 40 feet (12 m.) is where you will encounter the islands most interesting features and marine life.
The team and crew of the blue o two fleet of liveaboard dive boats strive to provide scuba divers and vacationers with the safest, highest quality and most innovative liveaboard experience possible. In addition to unmatched scuba diving, guests aboard the M/Y blue Fin will enjoy amazing photography and video opportunities, excellent accommodations, and delicious meals as part of their vacation package. Blue o two scuba diving excursions afford guests both safety and comfort as they travel to the best diving locations in the Egyptian Red Sea.