Buddy Dive Liveaboard Galapagos
Instead of planning another vacation to Hawaii or taking the typical Caribbean vacation why not step out of your comfort zone and consider the M.Y. Darwin Buddy or the M.Y. Wolf Buddy? These two Liveaboard dive boats are ready to take you on an amazing 8-day / 7-night scuba dive vacation in the Galapagos Islands. Known as Charles Darwin's enchanted islands, the Galapagos offer an unforgettable scuba diving experience, one that inspires awe in even the most seasoned of divers.
Serving as inspiration for Darwin's Theory of Natural Selection, the Galapagos Islands lie approximately 600 miles (960 km.) off the west coast of Ecuador. This remote archipelago, an Ecuadorian National Park and UNESCO World Heritage Site, consists of seven major islands, six smaller islands, and countless islets and rocks, and stretches some 270 miles (430 km.) from the small island of Darwin in the northwest to the large island of Española in the southeast. Cold ocean currents surrounding some of these volcanic islands combine with warm tropical waters around others to contribute to an incredibly prolific and diverse marine life. With approximately 270 species of fish, a quarter of them endemic, the marine life in the Galapagos Islands is unlike any that of any other place in the world. Scuba diving in the Galapagos is thrilling, challenging and remarkably rewarding. You will be amazed by the large populations of Hammerhead, Galapagos, and White-tipped Sharks, as well as Eagle and Manta Rays, and countless schools of brightly colored fish.
The islands have a distinct microclimate, which presents itself in the form of two main seasons. The hot, wet season occurs from January to June. At this time trade winds can come in from the southeast bringing mild temperatures and rough seas. Strong storms with plentiful rains are likely. The dry season takes place from July to December, when easterly winds result in calmer waters. Cool, dry air and cool water temperatures characterize the cold season. Westerly currents bring nutrient rich waters, providing an important source of food for large marine animals such as whales, dolphins, and penguins. At this time of year scuba diving is especially good as the underwater marine creatures are in reproductive mode.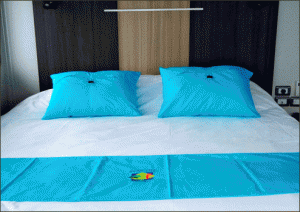 Both the surface and water temperatures in the Galapagos depend on the season and the location. February to April are the warmest months while September to November are the coolest.  Temperatures can range from 60°F to 79°F (16°C-26°C). At depths of 30-100 feet (10-30 m.), you will experience thermoclines. During the cold season a 7mm. wetsuit with hood and gloves is recommended, and during the hot season a 5mm. wetsuit is recommended.
Because much of your diving will take place in medium to strong currents, scuba diving in the Galapagos Islands is not recommended for beginning divers. Galapagos scuba diving is done from pangas (dinghies) that are launched from the Darwin Buddy and the Wolf Buddy liveaboard boats. Visibility of up to 100 feet (30 m.) is typical, although during some seasons an abundance of phytoplankton can reduce visibility somewhat. Many of your dives will be drift dives but you will also experience wall dives and deep dives of 60 feet (20 m.) or more. Please note, night diving is not permitted in the Galapagos Marine Park Reserve. Dive computers are mandatory, and all divers must present proof of dive certification.

Departing from San Cristobal Island, the typical Buddy Dive Galapagos itinerary includes scuba diving at Isla Lobos, Cape Marshall, Wolf Island, Darwin Island, Roca Redonda, Punta Vicente Roca, and Cousin's Rock. In order to ensure the safest and best dive experience possible, however, dive itineraries may vary due to weather and sea conditions. You will also have the opportunity to visit the Fausto Llerena Breeding Center on land. Photo and video opportunities abound at each dive location.
Your first dive of the trip takes place at Isla Lobos where, in addition to performing an equipment check dive, you will thrill to see an abundance of sea lions, sting rays, marine iguanas, and turtles.
On Day 2 you will visit Cape Marshall where you will experience drift diving on amazing reefs and along vertical volcanic walls that are covered with black corals. At this incredible dive site you can expect encounters with Giant Mantas, Gold-rimmed Surgeonfish, Galapagos Horned Sharks, Sea Lions, Mola Mola (Sun Fish), Sailfin Grouper, Harlequin Wrasse, and large schools of assorted fish. Dive depths range from 10 to 120 feet (3-37 m.), and water temperatures can range between 56°F to 78°F (13°C-25°C).
The next three days you will be diving at both Wolf and Darwin Islands, considered by many to be the top scuba diving destinations in the world. Although it takes approximately 14 hours to reach Wolf Island, once you arrive you will understand why this dive site is included on the itinerary. Specific dive sites you will visit here may include The Landslide, Islote la Ventana, Shark Bay, and La Banana. The reef life is incredible and corals abound. Marine life you will experience at Wolf Island includes Hammerhead Sharks, Sea Lions, Dolphins, Iguanas, Manta Rays, Turtles, Butterfly Fish, Trumpet Fish, and Hogfish. Above water, look for a variety of sea birds including Red-footed Boobies, Masked Boobies, Pelicans, Frigates, and Swallow-tailed Gulls.
Darwin Island, which has no dry land access, emerges vertically from the water, reaching approximately 550 feet (168 m.) at its peak. Here you may encounter Scorpion Fish, Blue-spotted Jacks, Rainbow Runners, Trumpet Fish, Parrot Fish and more. Additionally, you may have an opportunity to swim with Eagle Rays, Dolphins, Manta Rays, Hammerhead Sharks, Galapagos Sharks, and Whale Sharks. Darwin's Arch, an arch-like stone formation that emerges from the ocean, is another famous attraction here.
On Day 6 you will visit the small, remote island of Roca Redonda, which is actually the summit of an underwater volcano that rises thousands of feet off the ocean floor. Here you may encounter schools of Barracudas and Jacks, Mantas, King Angelfish, Scalloped Hammerheads, and even huge Mola Mola. Several underwater steam vents are located on the southeast side of this island. In the shallows you can watch as gas bubbles rise to the surface.
Also on Day 6 you will dive at Punta Vicente Roca, a favorite dive site for many, located on the northwestern side Isabela, the largest of the Galapagos Islands. The upwells of ocean current bring nutrient rich waters that attract an abundance of marine life, including Sea Lions, Mola Mola, Puffer Fish, Marlin, Galapagos Penguins, and smaller fish such as Sea Horses, Frogfish, and Red-lipped Batfish.
On Day 7 of your trip you will scuba dive at Cousin's Rock, rising just 33 feet (10 m.) out of the water. Another popular dive site in the Galapagos, the coral covered rocks here provide shelter to a number of small critters including Nudibranchs, Octopi, Hawkfish, and Galapagos Sea Horses. Large animals and tropical fish also populate the waters around Cousin's Rock. Look for Mobula Rays, White-tipped Reef and Hammerhead Sharks, Sea Lions, and Spotted Eagle Rays. Here you can also find black corals, sea fans, hard corals, red sponges, and hydroid bushes.
Also on Day 7 you will have an opportunity to visit the Fausto Llerena Breeding Center, and on Day 8 you can visit the Interpretation Center where you can learn about the history of the Galapagos Islands or take a walk on one of the beautiful trails.
The Buddy Dive Liveaboard Galapagos team strives to provide scuba divers and vacationers with the highest quality and most innovative luxury liveaboard experience possible. In addition to unmatched scuba diving, guests aboard the M.Y. Darwin Buddy and the M.Y. Wolf Buddy will enjoy excellent accommodations and delicious meals as part of their vacation package. Buddy Dive Liveaboard dive boat excursions afford guests both safety and comfort as they travel to the best diving locations in the Galapagos Islands