Humboldt Explorer
Consider Explorer Ventures an unforgetable  Galapagos Islands vacation. This is no cheap package holiday, but the liveaboard dive boat the Humboldt Explorer will provide an unforgettable 8-day / 7-night scuba diving adventure. You will experience amazing dives, take in exotic scenery, and learn about these unique volcanic islands. Galapagos diving is challenging, thrilling, and extremely rewarding. This natural haven contains an abundance of marine life—the numbers and varieties of graceful rays, giant schools of fish, and ever-present sharks will amaze and astound you. This is nearly an all inclusive vacation package.
The Galapagos Islands lie approximately 600 miles (960 km) off the west coast of Ecuador and served as inspiration for Charles Darwin's Theory of Natural Selection. The islands have a distinct microclimate, which presents itself as a hot season from December to May, and a cold season from June to November. During the hot season, the warm north trade winds and changing ocean currents bring mild temperatures and deep blue skies. At this time of year strong storms and plentiful rainfall can occur. Cool, dry air and cool water temperatures characterize the cold season. Trade winds can come in from the southeast and create rough seas. Scuba diving at this time of year is especially good as the underwater marine creatures are actively reproducing. Currents from the west bring nutrient rich waters that provide an important source of food for large marine animals such as whales, dolphins, and penguins.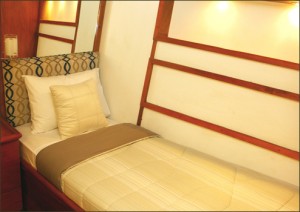 During the hot season water temperatures range between 65°-75°F (18°-24°C), and during the cold season they are 60°-70°F (15°-21°C). In the rainy December-to-May months the air temperature averages at least 75°F (24°C), while during the June-to-November dry season the temperatures reach the mid-60s (18°-19°C) and sea breezes are constant. At the dive sites the Humboldt Explorer visits, visibility is usually between 30 and 80 feet (9-24 m.), and currents can range from one to five knots. A 7mm. wetsuit with hood and gloves is recommended during the cold season and a 5mm. wetsuit is recommended during the hot season.
All dive operations are conducted from large pangas that are boarded easily from the dive deck. To comply with Galapagos National Park Regulations, all divers must dive with an instructor / naturalist guide at all times. Divers must be certified from an internationally recognized scuba diving certification organization. You will be making 2-3 dives on most days of the trip for a total of 17 dives. Because scuba diving in the Galapagos Islands is often at an advanced level, you should be an experienced diver and have logged more than 100 dives. The currents here can be very strong and divers are often required to swim against them. In order to ensure the safest and best dive experience possible, at the captain's discretion itineraries may vary due to current weather conditions or those forecast throughout the week.
You will board the Humboldt Explorer in San Cristobal, and shortly after departure you will begin to see the diverse animal life and myriad land formations that comprise this spectacular archipelago. As a general rule, the Galapagos National Park determines the order in which diveboats visit the various islands, but you can expect to dive at San Cristobal, Bartolome, Wolf, and Darwin Islands as well as at Cousin's Rock. Photo and video opportunities abound at each dive location.
At Wolf Island, approximately 62 miles (100 km.) northwest of the main Galapagos Island chain, you will enjoy seeing the Galapagos Sharks, schools of Scalloped Hammerhead Sharks, Manta Rays, Eagle Rays, Golden Rays, Green Turtles, Sea Lions, and Fur Seals that populate the waters. Sightings of Whale Sharks can occur between June and November. In addition, this island is home to colonies of Red-footed and Masked Boobies, Marine Iguanas, Frigatebirds, and Swallow-tailed Gulls.
Darwin Island emerges vertically from the ocean and was named in honor of Charles Darwin. It presents a 40-90 foot (12-27m.) dive with a 1-3 knot current. The waters around this island teem with an amazing variety of marine life. Divers will see schools of Hammerhead Sharks, Silky Sharks, Galapagos Sharks, Manta Rays, Eagle Rays, Green Turtles, Hawksbill Turtles, schools of Tuna, and Whale Sharks.
Cousin's Rock also offers opportunities to see large animals such as Sea Lions. Its combination of coral-covered rocks presents a large variety of tropical fish. Shaped like a triangle, this rock rises approximately 33 feet (10m.) out of the water and provides diving opportunities from 16 to 90 feet (5-27m.) with moderate currents. You will find ledges along the wall and slopes of the rock that house Black Corals, Sea Fans, and Red Sponges. Scuba divers will also see Hawkfish, Frogfish, Galapagos Sea Horses, Green Sea Turtles, and Octopuses. Manta Rays, Hammerhead Sharks, Reef Sharks, and schools of Barracuda also populate the waters around Cousin's Rock.
One of the most-recognized and photographed sights in the Galapagos Islands is Pinnacle Rock at Bartolome Island. Barren and desolate, there is little vegetation on this island. Divers in the area of the southern beach will see Spotted Eagle Rays, and White-tipped and Black-tipped Sharks, while the northern beach provides snorkelers with the opportunity to swim with Sea Lions and Galapagos Penguins. Seasonally, Green Sea Turtles mate and nest in the area of Bartolome Island, with peak mating occurring between the months of November and January.
The diversity and abundance of marine life in the Galapagos Islands is unlike any other place in the world. At many of the dive sites you can also expect to see Coral Hawk Fish, Sea Horses, and Barnacle Blennies. You will encounter a variety of rays including Sting Rays, Golden Rays, Spotted Rays, and Marble Rays. You will find yourself among schools of hundreds of Brown-striped Salema, Snappers, Groupers, and Chevron Barracuda.
The Captain and crew strive to provide scuba divers and vacationers with the highest quality and most innovative liveaboard experience possible. In addition to unmatched scuba diving, guests aboard the Humboldt Explorer will enjoy excellent accommodations and delicious meals as part of their vacation package. Explorer Ventures dive boat excursions afford guests both safety and comfort as they travel to the best diving locations in the Galapagos Islands.