Indo Siren
The Worldwide Dive and Sail team welcomes you aboard the Sailing Yacht (S/Y) Indo Siren, the luxury liveaboard dive boat that travels three distinct itineraries in the beautiful archipelago nation of Indonesia. As you can see, this is a floating vacation resort. The S/Y Indo Siren, an Indonesian Phinisi, offers amazing year round scuba diving excursions, each designed to ensure diving opportunities are enjoyed at the peak of each dive season. The Republic of Indonesia is the world's second largest archipelago nation, and is comprised of some 17,000 islands that extend over 3,100 miles (5,000 km.). Indonesia straddles the equator just to the north of Australia and to the south of both the Philippines and Malaysia. Indonesia is a scuba diver's paradise. Nutrient rich waters from the oceans and currents converge here, bringing with them an abundance of marine life. With more than 4,000 recorded fish and invertebrate species, and 15% of the world's coral reefs, photo and video opportunities abound. Diving in Indonesia is indeed varied and appeals to divers of all levels of experience.
The Worldwide Dive and Sail team takes advantage of the weather and sea conditions to take you to one of three Indonesian dive destinations. From November to April you can enjoy a 6- or 10-night trip to Raja Ampat, with its fantastic diversity of both dive sites and marine life. Between May and November you can travel to Komodo National Park on a 10-night dive trip that offers opportunities to observe both large pelagic fish and the tiniest of critters. And, between October and December, a 14-night vacation of a lifetime awaits you as the S/Y Indo Siren travels the waters of the Banda Sea for diving at Flores, Lembata, Alor, and other Indonesian islands.
Raja Ampat
Aboard the S/Y Indo Siren you will enjoy diving the entire region of Raja Ampat. Raja Ampat, meaning Four Kings, is located in Indonesia's West Papua Province, and is a large archipelago comprised of more than 1,500 small islands that surround four main islands. You will be amazed by the numbers and diversity of both the dive sites and of the marine life. You will dive in areas covered with sea fans and soft corals, as well as areas of white sand, black sand, shallow reefs, beds of seagrass, mangroves, drop offs, and caves. You will see fish of all types, sizes, and colors, from Pygmy Seahorses to the largest of aquatic predators. You will be awestruck by the colorful show that awaits you as natural sunlight illuminates brightly colored corals in the water. The reefs teem with life, just waiting for you to explore them. Each trip provides new opportunities for discovery.
The S/Y Indo Siren departs from Sorong and takes in the best dive sites in both northern and southern Raja Ampat. Note: the itinerary for the 6-night trips concentrates on the dive sites in northern Raja Ampat. Several of the dive sites you may visit include Boo Island, Manta Sandy, Sardine, and Happy Ending.
At Boo Island you will see colorful corals and encounter schools of Snappers, Trevallies, Bumphead Parrot Fish, and Spanish Mackerels. Water has eroded two holes in rock formations here, making "windows" where Ghost Pipefish congregate.
At Mansuar Island you will visit the Manta Sandy dive site. Here you will dive to a depth of just 60 feet (18 m.) and patiently wait for the Manta Rays to arrive. Your patience will pay off when you observe the spectacular show these friendly creatures perform. You will likely see several mantas cruising through the narrow channel at one time or making their way to two coral bommies which serve as their cleaning station. If they are curious enough they may even approach divers for an up close encounter. The wingspan of these graceful creatures can reach up to 16-20 feet (5-6 m.), and their coloring can vary from all black to black with unique white markings.
At Kri Island you will dive Sardine, where more than 970 different species of fish have been recorded. You will encounter White-tipped and Black-tipped Sharks, Wobbegong Sharks, Moray Eels, Turtles, and Clams. Swim among large schools of Big-eye Jacks while keeping watch for a passing Marble Ray. There is so much to see at this dive site that you will probably want to dive here more than once.
One of Raja Ampat's best known dive sites for critters is Happy Ending, with its shallow, dark sand slope. Keep your eyes open here for Wonderpus Octopi, Mimic Octopi, Snake Eels, Crocodile Fish, and Phyllodesmium Nudibranchs.
The scenery above water in Raja Ampat is nothing short of spectacular. Sandy white beaches, dramatic rainforests atop steep limestone cliffs, and uninhabited bays add to Raja Ampat's tropical beauty. Because of the unpredictable currents at some dive sites that can change on an hourly basis, it is recommended that divers have some level of dive experience. Air temperatures in the Raja Ampat region average 81°F (27°C) and water temperatures range from 79° to 84°F (26°-29°C) year round in this warm, muggy climate. This part of Indonesia does not experience much of a rainy season.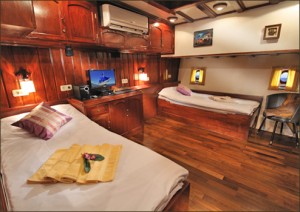 Komodo National Park
Traveling aboard the S/Y Indo Siren on a 10-night liveaboard excursion to Komodo National Park will be your vacation of a lifetime. Komodo National Park is located 200 nautical miles east of Bali, and is situated between the Indonesian islands of Sumbawa and Flores. The marine portion of the park is home to more than 70 species of sponges, 1,000 species of fish, and nearly 400 species of reef-building corals. Komodo National Park is a UNESCO World Heritage Site, and one of the largest protected zones in the world. Thanks to the volcanic eruptions that formed these islands, the underwater terrain varies from calm, sandy flats, to dramatic vertical walls and pinnacles, while the topography of the islands is unique. Komodo Island has an irregular rocky coastline that meets sandy bays against backdrops of enormous volcanic cliffs. Lontal palm savannahs as well as areas of rain- and bamboo forest cover the island. On the island, a diverse range of animals reside within Komodo National Park, including the world's largest lizard—the famed Komodo Dragon—, wild buffalo, Sunda deer, wild boar, wild horses, and the Macaque monkey. More than 150 species of birds have been identified on the island.
Your 10-night diving adventure aboard the S/Y Indo Siren departs from Bima Bay, reachable via a short flight from Bali. Your first dive will be a muck dive where you will search for interesting critters of all types. The next dive area will be at Sangeang Island, with its dark volcanic sand. Inside the National Park you will dive in the areas of Batu Bolong and Gilli Lawa Laut. The strong currents in these areas bring White-tipped and Grey Reef Sharks as well as Fusiliers and schools of Snappers. Off the southern part of Komodo Island you will dive with Manta Rays and then head north to Gilli Banta. You will spend the final day of your dive vacation in the calm waters of Bima Bay.
Specific dive sites you may visit include Castle Rock, Crystal Rock, Cannibal Rock, Yellow Wall, Manta Alley, and The Unusual Suspects. Just off Gilli Lawa Laut are Castle and Crystal Rocks, two submerged pinnacles teeming with life. If you hang in the current you will enjoy the show put on by the large pelagics attracted to this area: Grey Reef Sharks, Eagle Rays, Napoleon Wrasses, and Fusiliers.
In the area of Nusa Kode you will dive at Cannibal Rock and Yellow Wall. The water here, often tinged green, can get as cold as 68°F (20°C), so you will want to have added thermal protection. Critters abound in this area, including microscopic Lady Bugs, Frogfish, Pygmy Seahorses, Rhinopias, Mantis Shrimps, and a variety of Nudibranchs.
At Manta Alley, you will observe a Manta Ray cleaning station in action. These graceful acrobats swoop down or hover effortlessly in the current for the cleaners to remove debris. It is not uncommon to see several mantas at one time.
Weird, wonderful macro critters abound at The Unusual Suspects dive site. You will want to have your camera ready for this macro photography opportunity where you will see Zebra Crabs as they cling to Fire Urchins, Ghost Pipefish, tiny Coleman's Shrimps, Harlequin Shrimps, Sea Horses, groups of Frogfish, and Mimic Octopi.
In this part of Indonesia, scuba diving is good generally year round, although visibility can vary from one season to the next. You can expect visibility of 35-100 feet (10-30 m.) at most dive sites. Within Komodo National Park, water temperatures can vary considerably. Toward the south, the average low temperature is 72°F (22°C), while the water temperatures can get to 84°F (29°C).
Banda Sea
Between October and December the liveaboard S/Y Indo Siren takes you on an amazing 14-night scuba diving excursion to remote and dramatic dive sites in the Banda Sea. You will depart from Maumere and travel to the islands of Flores, Lembata, Panta, Pura, and Alor. In addition to venturing to distant dive locations, your itinerary also includes visits to more known dive sites in the areas of Raja Ampat, Flores, and Ambon. You will explore walls and pinnacles, do muck diving, and enjoy discovering the creatures that reside among the coral gardens.
Your first dive opportunity takes place at Adunara Island, where the S/Y Indo Siren passes through a narrow channel and travels to the southern region of the Lesser Sunda Islands. From there you will travel north through the Pantar Straight as you head into the Banda Sea. You will encounter excellent fish life and sea snakes on your stop at Gungung Api, and large pelagics on your visit to the Lucipara atolls. At the end of this excursion you will disembark in Sorong.
The S/Y Indo Siren also offers a 10-night liveaboard dive excursion that departs from Sorong and travels to Waigeo, Misool, and the Fiabacet Islands. On this journey you will encounter Manta Rays at their cleaning station and diverse corals that provide shelter to a wide assortment of marine life. Other dive locations on this itinerary include Banda Neira, Pula Nusa Laut, and the harbor of Ambon.
Water temperatures on the reefs frequently reach 82°F (28°C), although elsewhere they can go below 68°F (20°C). Because of the number of dives you will be making each day, it is recommended that you wear a 3-5 mm. wetsuit.
For each of the S/Y Indo Siren's itineraries up to four dives are scheduled each day. Qualified divers should bring their certification card and log book along with them. Scuba diving with the Worldwide Dive and Sail team is suitable for divers of all levels of experience, although Advanced Open Water diving certification may be recommended for some destinations. Alternate itineraries may be selected if weather conditions present unsafe or unsuitable diving conditions at your chosen dive site.
The Worldwide Dive and Sail team strives to provide scuba divers and vacationers with the safest, highest quality and most innovative liveaboard experience possible. In addition to unmatched scuba diving, guests aboard the S/Y Indo Siren will enjoy amazing photography and video opportunities, excellent accommodations, and delicious meals as part of their vacation package. Worldwide Dive and Sail dive boat excursions afford guests both safety and comfort as they travel to the best diving locations in Indonesia.