Nautilus Explorer
The Nautilus Explorer's diving and snorkeling trips inspire awe in even the most experienced travelers and deep sea divers. Imagine diving off Guadalupe Island, experiencing crystal clear water and seeing a great white shark swim to within arm's length. This isn't just another cruise vacation. It is a vacation package that will change everything you once thought about travel to Mexico.
The Nautilus Explorer has several different itineraries that travel to Socorro, the Sea of Cortez, Guadalupe Island, Clipperton Atoll, San Benitos, and the California Channel Islands.Tag alongside spectacular and amazingly friendly giant Pacific mantas off Socorro Island, as they invite you along on a graceful, acrobatic swim. Experience one of the most remote and least explored scuba diving locations on the planet, historic Clipperton Atoll, where you will be amazed at the color and splendor that abounds. Beautiful coral reefs, Clipperton Angelfish, and Moray Eels thrive underwater, while Skinks, Boobies, and Land Crabs populate the 2-mile long atoll. Let your dive vacation hosts suggest the best Sea of Cortez activities, whether it is diving to explore shipwrecks, observing the playful antics of California Sea Lions, or spying turtles, rays, tunas and other abundant marine life.  Fur Seals come out to play during the Explorer's unique kelp forest diving trip off the blue waters of San Benitos Island and Baja California.
Socorro Island
You will depart from Cabo San Lucas, Mexico, for a 9-day / 8-night excursion to Socorro Island, one of the four volcanic islands that comprise the Revillagigedos Archipelago. On this trip you can expect to make 22 dives over six dive days, including an exciting night snorkeling adventure with Silky Sharks, weather permitting. Note, one day is required to cross from Cabo San Lucas to Socorro. The Nautilus Explorer also has other trips that offer scuba diving at Socorro and the Sea of Cortez, Clipperton Island, or Guadalupe Island. This trip also takes you scuba diving at San Benedicto and Roca Partida, two of the other Revillagigedos Islands.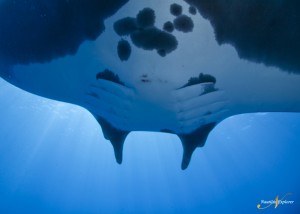 Pelagics are the main attraction for scuba diving at Socorro. Because of its location in open ocean waters, Socorro attracts large concentrations of big pelagics, especially giant Pacific Manta Rays, considered by some to be the most majestic creatures in the ocean. Not to be confused with the smaller Mobula species, the wing-like pectoral fins of these friendly animals typically span 16-20 feet (5-6 m.) but they have been known to grow to as much as 23 feet (7 m.) across.  At Socorro you can dive and interact with the mantas that, completely on their own terms, come in close and then swim alongside you as they perform their graceful acrobatics. Amazingly, the local Bottlenose Dolphins that populate these waters will occasionally mimic the behavior of the giant mantas; you may be fortunate enough to experience a close-up dolphin encounter here too.
Shark sightings in these waters are also very good, and you will be thrilled by the numbers and varieties of sharks you will see. Galapagos, White- and Silver-tipped, and Silky Sharks are all common. Large schools of Hammerhead Sharks can be seen best between April-June. During the Nautilus Explorer's season, Whale Sharks can be spotted both at the beginning and toward the end. Between January and March, the mighty Humpback Whales migrate into these waters to breed and calve. Divers may be fortunate enough to encounter these majestic creatures and also to hear the mating song of the males.
Visibility in these very blue waters is very good—up to 130 feet (40 m.).  There may be no to moderate current. In November, water temperatures average 83°F (28°C) and can drop to 70°F (21°C) in February. By May, temperatures rebound to about 78°F (25°C). Dive levels are beginner to intermediate. Waters are generally calm at the dive sites, with the exception of Roca Partida, a small pinnacle rising from the depths in the middle of the ocean. The itinerary for each trip is always subject to change, as each is planned to give you the best possible diving conditions, weather and sea conditions permitting. A 3-5mm. wetsuit is recommended.
Guadalupe Island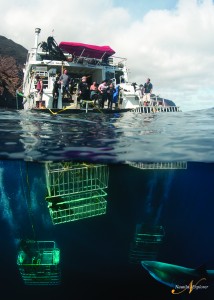 Guadalupe Island, Mexico, is the top destination in the world for encounters with great White Sharks. Guadalupe Island is a small, volcanic island in the Pacific Ocean, located 150 miles (240 km.) off the west coast off the Mexican peninsula of Baja California. With visibility of 125-150 feet (38-45 m.), these clear blue waters boast excellent shark-sighting conditions. The Nautilus Explorer offers double-decker submersible cages that allow certified divers to descend and interact face-to-face with these great apex predators.
As a rule, shark encounters at Guadalupe Island occur best on their terms. Your heart will pound as you thrill to the adventure of descending 125 feet (38 m.) in a submersible cage to observe great whites in crystal clear waters. Experienced divemasters accompany you on each dive to both indicate approaching sharks and also ensure your safety. In these deep waters, sharks are ever-present—relaxed, curious, and very likely to come quite close to your cage.
Certified divers will have the opportunity to make up to three cage dives each day, and descend to the depths where the sharks are. At these depths, chum is not needed to attract the sharks because they are already present, which therefore, enhances your chances of having an up close encounter. The most adventuresome divers can go onto the upper deck of the submersible cage, where only a single rail comes between you and the great Whites. Diving in the surface cage is unlimited.
Voyages to Guadalupe Island depart from San Diego and are typically 6-days / 5-nights, but the Nautilus Explorer also offers 10- and 15-day Guadalupe combination trips that allow you to combine shark diving with scuba diving at Socorro Island or in the kelp forests of Baja California, at San Benitos Island. During the Guadalupe anchorage, sea conditions are generally very calm, and water temperatures average 74°F (23°C). A 5-7mm. full wet suit is recommended year round. While certification is required to cage dive, this dive is suitable even for beginning divers.
Sea of Cortez
Located between the Baja Peninsula and the mainland of Mexico, the Sea of Cortez is home to countless species. Scuba diving in the Sea of Cortez provides you with a truly memorable liveaboard dive experience, thanks to the diversity of both the marine life and the terrain. The best time of year to dive the Sea of Cortez is in the fall. At this time of the year the seas are calm, the water warm, and the visibility is very good. The captain and crew of the Nautilus Explorer want to ensure you enjoy the best dive experience possible. For this reason the itinerary for this excursion can vary, and will depend on weather and diving conditions. Some of the dive sites you may visit can include Los Islotes with its colony of playful California Sea Lions, the seamount at El Bajo, Las Animas, Isla Cerralvo, Suwanee Reef, the wreck of the ferry Salvatierra, La Reyna, and the whale sharks at El Mogote.
Other marine life you can expect to see on your liveaboard dive trip to the Sea of Cortez includes Moray Eels, lots of turtles, Hammerhead Sharks, large schools of Jacks, small rays, Tunas, Garden Eels, and numerous other species of fish. The invertebrate life is equally diverse. You can expect to see beautiful corals, gorgonians, sea fans, and Yellow Colonial Tubastrea Coral. Topside you will thrill to see Dolphins, Pilot Whales, and Whale Sharks that approach the boat to feed on plankton.
Trips to the Sea of Cortez are relaxing, and have been compared to swimming in a giant aquarium with a huge diversity of animals. In September, surface temperatures can exceed 100°F (37.7°C). By mid-November, temperatures drop to the mid-80s (about 29°C). Water temperatures range between 76° and 86°F (25°-30°C). A 3-5mm. wetsuit is recommended. While there is a remote possibility of a tropical storm early in the season, most days are sunny. Visibility ranges from about 30 to 100 feet (10-30 m.). Diving at the Sea of Cortez is suitable for all dive levels.
Clipperton Atoll
The Nautilus Explorer is one of the few liveaboard boats that offers diving expeditions to Clipperton Island, a very beautiful and remote tropical coral atoll. The atoll and lagoon are surrounded by a shallow barrier and coral reef that descends to 175 feet (53 m.) at a white sand bottom. There is an excellent variety of fish, some of which is endemic, such as the rare Clipperton Angel Fish, as well as large schools of Jacks, Green Moray Eels, Nudibranchs, and other macro life.
The atoll is 2 miles long (3.2 km.) and teeming with life. Millions of land crabs and some 500,000 Boobies reside on the island. The water temperatures at Clipperton average 86°F (30°C) with very good visibility at 150 feet or more (45+ m.). Diving at Clipperton is suitable for all divers with good dive skills and buoyancy control. The Explorer combines its Socorro Island trip with a visit to Clipperton Island on a 16-day / 15-night excursion. While at Clipperton you may make between 15-19 dives, depending on weather and sea conditions.
San Benitos Island and Baja California
Departing from Ensenada, the Nautilus Explorer visits San Benitos Island during one of its combination trips that range from 10 nights to 15 nights. San Benitos is an excellent addition to your itinerary to either Guadalupe Island where you dive with Great White Sharks or to the California Channel Islands off the west coast of Baja California in the eastern Pacific Ocean. San Benitos presents the unique and amazing opportunity of kelp forest diving in crystal blue waters while enjoying up-close encounters with curious and playful Guadalupe Fur Seals and Sea Lions. In addition, you will see abundant Lobsters and Abalone, as well as Silky and White-tipped Reef Sharks, Wahoo, Horn Sharks, Bat Rays, Guitar Rays, and Orange Garibaldi.
At San Benitos the sea conditions are very calm as you will be diving in sheltered inlets and coves. Visibility is 50-100 feet (15-30 m.), and water temperatures range between 72° and 77°F (22°-25°C). It is recommended that you use a 5mm. full wetsuit. While diving at San Benitos is suitable for all levels of experience, you will be diving in shallow water through thick kelp so good buoyancy control is helpful.
The crew of the Nautilus Explorer strives to provide scuba divers and vacationers with the highest quality and most innovative liveaboard experience possible. In addition to unmatched scuba diving, guests aboard the Explorer will enjoy excellent accommodations and delicious meals as part of their vacation package, as they travel to the best diving locations in the eastern Pacific Ocean in safety and comfort.