Paradise Dancer
The Dancer Fleet of liveaboard dive boats welcomes you aboard its majestic motor schooner, the Paradise Dancer, as you embark on an amazing 11-night scuba diving adventure exploring beautiful Indonesia. The Paradise Dancer, considered by many as a "floating boutique resort", travels two distinct itineraries depending on the time of year. From November through March the Paradise Dancer departs from Sorong and travels to the bio-diverse waters of the Raja Ampat Islands, and from April through August the Paradise Dancer voyages from Manado on its North Sulawesi itinerary to explore Bangka Island, the Sangihe Islands, and Bunaken National Marine Park.
The Republic of Indonesia is an archipelago comprised of some 17,000 islands and islets extending over 3,100 miles (5,000 km.). Indonesia straddles the equator just to the north of Australia and to the south of both the Philippines and Malaysia. The islands, many of which are uninhabited and unexplored, are represented by a range of diverse natural beauty; some are lush, rainy, and verdant, while others are arid, volcanic, and desolate. The waters around these islands are nutrient-rich thanks to waters from the oceans and currents that converge here. As a result, there is an abundance of marine life.
In order to seek out the best dive spots available at the time of your cruise, your actual itinerary will be up to the Captain's discretion, and may vary depending on weather and sea conditions. All dives will be made from a dive tender and should be planned as no-decompression dives. You will be able to make up to four dives each day, including a night dive. Two to three dives will be offered on the first and last dive days. Before making your first dive, you must show the divemaster either your c-card or some other proof of diving certification. Because of the number of dives you will be making each day, it is recommended that you wear a light wetsuit. Some people use up to a 3mm. suit for added thermal protection.
Raja Ampat Excursion
Located in Indonesia's West Papua province, Raja Ampat, meaning Four Kings, is a remote archipelago comprised of four main islands surrounded by some 1,500 smaller islands and cays. Stunningly beautiful both above and under water, Raja Ampat is located in the heart of the Coral Triangle. The biodiversity and variety of marine life at Raja Ampat is amazing. It is home to more than 1,000 fish species, 537 coral species, and 699 mollusk species. Scuba divers will see an amazing diversity of marine life, including sharks, Manta Rays, Turtles, and large schools of fish. You will also experience a variety of reef terrains from vertical walls, to reef flats, to sea mounts, lagoons, and pinnacles. These pristine reefs present miles of perfect hard corals and numerous species of colorful soft corals. Numerous ship and airplane war wrecks are also included among your scuba diving highlights. Prepare yourself for exploration and adventure as you perform true frontier scuba diving.
The unpredictable currents can change on an hourly basis, and can range from no current at all to a significant current; for that reason divers should have some level of dive experience. While visibility is generally very good, it is usually best early in the day. Most diving done here is drift diving at this year round diving destination. Raja Ampat has a warm, muggy climate, with air temperatures averaging 81°F (27°C) and water temperatures ranging from 79° to 84°F (26°-29°C) year round. This part of Indonesia does not experience much of a rainy season.
The crew aboard Paradise Dancer takes all weather and marine conditions into account when planning your exact itinerary. For that reason it can change from one excursion to the next. Rest assured, however, as it is all planned to provide you with the best dive experience possible while also keeping you safe and comfortable. Your itinerary may include some of the following dive sites.
Perhaps the most popular with divers is the Wagmab & Farondi Passage located along a limestone rock ridge to the east of the main island of Misool. There are a variety of dive conditions here, thanks to the gushing currents that flow through a gap measuring at least 984 feet (300 meets) wide. The numerous channels here support schools of fish and macro species.
There are various dive sites located at the western end of the island of Wayilbatan. Gorgonian Passage is the most popular. The multiple seamounts and karst (limestone) ridges present excellent coral growth and a variety of marine life including pelagics and reef dwellers.
Some of the best diving to be had is at the Fiabacet Group of rocky islets located between the islands of Kalig and Boo. Scuba divers will see large animals swimming among the colorful corals and teeming reef fish in this area.
The signature dive of the Boo/Yilliet/Warakaraket dive group is Boo Windows with its interesting underwater architecture. Among the dive sites here you will experience wall dives and seamounts.
Large tree-covered islands make up the area known as Aljui, located on the western edge of the island of Waigeo. Here you will see massive limestone cliffs and expansive mangroves. You can have some great muck dives and do some good critter hunting here. Sightings of Wobbegong and Epaulette Sharks are common in this area. An amazing array of rare bird species populates the inland mangroves and waterways.
North Sulawesi Excursion
North Sulawesi is one of 32 provinces in the Republic of Indonesia. Making a 320 nautical mile voyage, the Paradise Dancer takes you on an adventuresome exploration of Bangka Island, the Sangihe Island chain, the Bunaken National Marine Park, and the Lembeh Strait. The reefs at Bangka are alive with color, attracting large pelagics to come in to feed. With its steep pinnacles and coral-laden boulders, Bangka provides shelter for Snappers, Fulsilier Fish, Surgeon Fish, and more. The Sangihe Archipelago connects Indonesia with the Philippines to the north. Untamed and naturally secluded, towering volcanic islands rise from the deeps. At night you will be able to observe red-hot lava spewing form the still active Siau volcano. Bunaken National Marine Park is comprised of 343 square miles (890 square km.) of warm, tropical waters housing White- and Black-tipped Sharks, giant Sea Turtles, Dugongs, Napoleon Fish, Dolphins, and occasional schools of whales. Breathtaking scenery, beautiful corals and sponges, and tropical fish will further delight photographers and videographers.
The North Sulawesi scuba diving itinerary is suitable for both beginner and advanced divers. The best visibility occurs during the dry season which runs from April through November. Visibility ranges from 65 to 130 feet (20-40 m.) or more. With a tropical climate, southwest winds keep the air moist and humid. Air temperatures range between 74° and 88°F (23°-31°C), sometimes higher. Water temperatures average approximately 80°F (27°C). During the dry season the waters are relatively calm, and the skies blue and sunny. December to March is the wet/rainy season. While air temperatures average about the same as during the dry season, winds out of the northwest and heavy rains may make for rough seas and reduced visibility. Rain showers typically occur at night, although you may experience an occasional, brief afternoon shower. Do not be deterred, however, because some of the best diving occurs during the rainy months. Therefore, dive excursions continue even in the presence of rain.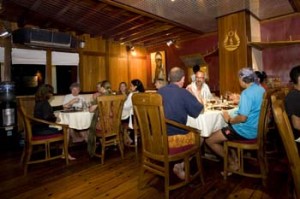 Bangka and the surrounding islands are exposed and frequently have strong currents from all directions. In the open waters you will see vibrant reefs and big pelagics come to feed. If you dive closer to shore you will see steep pinnacles and boulders covered with colorful corals. Schooling Snappers, Fusilier Fish, and Surgeon Fish seek shelter in these waters.
A dive at Mahangetang is nothing short of amazing. Mahangetang is an active underwater volcano rising 1,300 feet (400 m.) from the sea floor, with its vent just below the surface. You will see tiny bubbles racing to the surface as the volcano's gasses escape. Strewn with boulders, the area around the volcano is desolate. Upon closer inspection, however, you will see tiny Sea Stars, Algae, sprouting corals, and worms.
Sangihe Islands present a rich and varied dive. Deep water currents swell with plankton and other nutrients that draw in tremendous schools of fish. You will marvel at the species of cetaceans such as Pilot Whales, Sperm Whales, Melon-headed Whales, and a variety of dolphins.
Within Bunaken National Marine Park there are 22 official dive sites. The diving here is primarily wall and drift diving. Photo opportunities abound, as you will see beautiful coral slopes replete with numerous varieties of coral fish, enormous Sea Fans, and sponges. You will also see schools of Barracudas, Jacks, Green Sea Turtles, Sea Snakes, Reef Sharks, and Napoleon Wrasses.
Lembeh Strait will deliver on its promise of "close encounters" of the macro kind, where you can expect to find all types of strange but beautiful critters. Look for the shy ones such as Pygmy Seahorses, Flamboyant Cuttlefish, Harlequin Shrimp, Mimic Octopi, Candy Crabs, Skeleton Shrimps, Pegasus Sea Moths, and Bobbit Worms. This dive adventure will also include sightings of Devil Fish, Stargazers, Sea Robins, Ambon Scorpionfish, Hairy Frogfish, Snake Eels, and more. An amazing array of nudibranchs can also be found here. Do not be surprised if you encounter a new species on this spectacular dive.
The Dancer Fleet strives to provide scuba divers and vacationers with the highest quality and most innovative liveaboard experience possible. In addition to unmatched scuba diving and snorkeling, guests aboard the Paradise Dancer will enjoy excellent accommodations and delicious meals as part of their vacation package. The Dancer Fleet's dive boats afford guests both safety and comfort as they travel to the best diving locations around the world.