Philippine Siren
The Worldwide Dive and Sail team welcomes you aboard the S/Y Philippine Siren, the luxury liveaboard dive boat that travels four distinct itineraries in the beautiful archipelago nation of the Philippines. The S/Y Philippine Siren offers amazing year round scuba diving excursions, each designed to ensure diving opportunities are maximized and enjoyed at the peak of each dive season.
The Republic of the Philippines lies in the western Pacific Ocean. Taiwan is located to the north, Vietnam to the west, Borneo to the southwest, and other Indonesian islands to the south. The Philippine Sea borders the Philippines to the east. This island nation is comprised of more than 7,000 islands. Some of the best scuba dive sites in the world are located in the Philippines—many of them reachable only by liveaboard boat. The region's tropical climate contributes to its wealth of natural resources and amazing biodiversity.
The deep blue waters that surround the Philippine Islands are populated with some of the most diverse marine life on earth. On your excursion aboard the S/Y Philippine Siren you will have opportunities to dive fantastic coral reefs, offshore pinnacles, and steep walls. You will dive wrecks, hunt for critters, and thrill to encounters with large pelagic fish. Choose from these exciting itineraries: Southern Visayas where you will dive the islands of Cebu, Bohol, Pescador, Apo, and Negro; Southern Leyte with its pristine reefs and macro diving; Batangas and Coron, where you will dive Anilao, Apo Reef, and wrecks at Coron; and Tubbataha Reef National Marine Park.
Southern Visayan Islands
Traveling year round, the liveaboard dive boat S/Y Philippine Siren journeys to the southern Visayan Islands for 7- and 10-night excursions to some of the best dive spots in the Philippines. You will visit the Visayan Islands of Cebu, Cabilao, Panglao, Balicasag, and Pescador, where you will experience amazing macro diving, coral covered walls, and gentle sloping reefs. Also included in this itinerary is the Apo Island marine sanctuary.
The nutrient and plankton rich waters of the Visayan Sea support various ecosystems that attract a wide diversity of marine life. On virtually every dive you can expect to see huge numbers of Redtooth Trigger Fish, Blue-lined Fusiliers, and Pyramid Butterfly Fish. You will also regularly encounter schools of Barracuda and Jacks, and Green and Hawksbill Turtles. Several of the dive sites are great for searching for small critters such as Ghost Pipefish, Frogfish, Pygmy Seahorses, and Octopi. The reefs contain a wide variety of Nudibranchs, Shrimps, and Crabs.
Highlights of your Visayas scuba diving itinerary include visits to Cogon/Mamsa Point at Apo Island, Pescador Island off western Cebu, Black Forest of Balicasag, and The Cars, off Dauin. Cogon/Mamsa Point, with its slopes and reef walls presents a rapid drift dive. You will see hard and soft corals, sponges, and sea fans. This dive site is named for the huge school of Jacks—Mamsa—you will find there. You will also see Frogfish, Triggerfish, and Turtles. Crustaceans and mollusks await discovery if you are able to stop during your dive to look for them.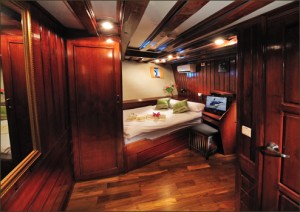 At Pescador Island you will thrill to the hunt of the Thresher Sharks, as they feed on the schools of sardines that congregate here. If you are fortunate enough, you may also encounter an occasional Whale Shark. The walls at this dive site are covered with sponges, and among the numerous macro subjects residing along the walls, you will find giant Frogfish.
The currents at Black Forest are usually stronger than they are at the other dive sites on this itinerary. Common sightings along the sloping wall at this site include schools of Jacks and Chevron Barracuda. In the shallow seagrass beds and soft coral garden here you will be able to observe Hawksbill Turtles as they feed.
You will enjoy the macro critter haven at The Cars dive site off Dauin. Follow the dark sand slope down where you will come upon two sunken Volkswagens, both covered with sponges and corals, and home to schools of Lionfish. If you go over the slope you will thrill to the bounty of other small creatures: Skeleton Shrimps, Pipe Horses, Frogfish, Cockatoo Waspfish, and Mimic Octopi.
The 10-night trip to the Southern Visayan Islands embarks and disembarks at Mactan Island. The 7-night trip travels between Mactan and Dumaguete, and is available for charter excursions. June to November is considered peak dive season, although you can expect some amount of rain. Air temperatures average between 79°-85°F (26°-29°C.). Water temperatures are consistently warm at 81°-85°F (27°-29°C).
Southern Leyte
Between March and May you will spend 6 nights aboard the liveaboard S/Y Philippine Siren as you travel around Sogod Bay in the Southern Leyte region of the Philippines, an area known for its sightings of Whale Sharks. The Sogod Bay region is an annual destination for Whale Sharks, who come to feed on the plankton that bloom in these warm, nutrient rich waters. You will also enjoy diving in other bays of southern Leyte and at Limasawa Island, where you will encounter a diverse variety of fish species and all types of interesting critters. This area can be enjoyed by scuba divers and snorkelers alike. The mountainous island of Leyte is approximately 112 by 40 miles (180 by 65 km.) in size, and is covered with dense forests. It is best known as the location where, during World War II, General Douglas MacArthur made his proclamation that he would "return to the Philippines." Limasawa Island was one of Ferdinand Magellen's stops on his Pacific voyages. Here you can visit the shrine where the first Catholic mass was held in the Philippines.
You will begin your trip by searching for Whale Sharks. The guests and crew of the S/Y Philippine Siren collaborate with people from the local municipalities who serve to spot the sharks. As a general rule, only snorkeling is allowed. For this part of your trip, you will ride aboard a dinghy and, once Whale Sharks have been sighted, you will be able to slip into the water to watch the sharks as they approach. The Siren travels to where the most frequent shark sightings occur, typically in the areas of Sunok Bay and the coral slopes of San Ricardo.
Other highlights of the Southern Leyte dive itinerary include stops at Maureen's Place and The Pier, off the coast of the province of Padre Burgos. At Maureen's Place you will dive the wreck of a banca—a traditional fishing boat—at depths of just 25 feet (8 m.). Look for Sweetlips fish in this area. Along the coral wall, you will find Surgeon Fish, Groupers, Snappers, and Trigger Fish, as well as a variety of small critters such as Cowries, Pipefish, and Pygmy Seahorses.
You will want to spend hours diving at The Pier, where you will discover all sorts of new creatures. At depths of only 20 feet (6 m.) you will encounter macro heaven just below the pier. Sponges cover the pier supports, and host Zebra Snout Seahorses and Freckled Frogfish. Look for Ghost Pipefish in the surge and Blue-ringed Octopi hiding in holes. You will love the variety of critters here, from Pleurobranchs, Devilfish, Seamoths, Coral Cowries, Blennies, and Nudibranchs, to Mandarin Fish who come out at dusk to mate.
Napantaw Reef requires two visits in order to explore all the reef has to offer. This area is closely monitored by the Coral Cay Conservation group, a community-based organization that works to support the preservation of coral reefs and tropical forests. You will enjoy amazing photo and video opportunities here as you take in the soft corals, Black Corals, and Whips that cling to the wall. The shallow waters hold hard coral formations where Pygmy Seahorses reside. You may also see Turtles and an occasional Black-tipped Shark.
At Limasawa Island you will dive at Gunter's Wall, where you will be amazed by the Green Tree Corals, Black Corals, and huge Barrel Sponges that adorn the gentle reef slope here. Soft corals are everywhere in the shallow reef area. Some of the marine life commonly sighted here includes Turtles, Barracuda, Banded Sea Snakes, Seahorses, Frog Fish, and Leaf Fish. You might even see what is, quite possibly, hundreds of Phyllodesmium Nudibranchs grouped together.
This 6-night charter departs from Mactan Island. Air temperatures can range between 88° and 91°F (31°-33°C), and water temperatures are warm, averaging around 86°F (30°C). At this time of year visibility is usually very good.
Batangas & Coron
The S/Y Philippine Siren travels to Batangas and Coron between November and February, taking guests on a 10-night scuba diving excursion from Coron Bay to Anilao and Apo Reef, considered among the best scuba diving destinations in the Philippines. Trips may start in Coron and end in Batangas, or start in Batangas and end in Coron.
While in Coron Harbor, one of your dive highlights include a dive of the wreck of the Akitsushima, a 376-foot (115 m.) seaplane tender of the Imperial Japanese Navy that was sunk in 1944. This wreck lies at depths between 75-130 feet (20-38 m.) and offers much to explore around the outside. Due to the depth involved as well as sharp, jagged metal from the ship, only the most experienced and qualified wreck divers will be able to penetrate the engine room, where they will see four impressive engines. At this dive site you will see large Groupers and schools of Batfish. Twenty-four ships have been sunk in Coron Bay, 12 of them located at diveable depths.
Apo Reef Natural Park is a World Heritage Site that is 34 square miles (88 square km.) of remote, protected reef. This reef is part of the largest contiguous reef system in the Philippines, and part of the second largest in the world, and is comprised of two reef atolls, Apo Major and Apo Menor.
At Apo Reef, your dives will vary and you will be both amazed and impressed by the variety and numbers of fish and corals you will see. Marine life is drawn to Apo Reef, an open ocean magnet for large pelagics including Sharks, Manta and Eagle Rays, schools of Barracuda, and Turtles. The rocky walls are covered with huge Sea Fans and Barrel Sponges that attract schools of Snappers, Marble Rays, White-tipped Reef Sharks, and a variety of crustaceans. Divers may also see whales break the surface for air as they cruise among the islands.
There is an excellent variety of dive sites at Apo Reef along the west coast of the island of Mindoro. You will see beautiful hard and soft corals, and find huge drop offs and spectacular walls along the other sides of the island. Strong currents here attract a variety of large pelagics, especially on the northern side of the island.
Along Apo Menor at dive site known as Bahura 29 you will find yourself surrounded by schools of Jacks, Surgeonfish, Triggerfish, and Fusiliers as you move along the sloping reef wall. Check the crevices for White-tipped Reef Sharks at rest and Lobsters hiding along the reef wall. At greater depths you will encounter Dogtooth Tuna, while closer to the surface you may spot Whales and Spinner Dolphins.
Verde Island is located in the passage between Mindoro and Luzon. Currents here can be strong, making for an exhilarating dive. Pinnacles rising from the depths present good dive opportunities for divers of all levels of experience. The sheer reef wall here is covered with soft corals and sea fans, all hiding Frogfish and a variety of crustaceans. Look for schooling pelagics and Banded Sea Snakes.
Anilao Island, with its more than 40 dive sites, is known as the birthplace of scuba diving in the Philippines and considered a world-renowned area for muck diving. It is located in the center of the renowned Coral Triangle. One dive site here is Twin Rocks, considered one of Anilao's best dive sites. Here you will see two large rocks situated just 3 feet (1 m.) apart from each other. With a maximum dive depth of 50 feet (15 m.), you can spend a significant amount of time here watching the schooling Jacks or exploring the corals for Devil Fish, Ghost Pipefish, Frog Fish, Gobies, Shrimps, and Anemones.
At this time of year, air temperatures can range between 78°-86°F (25°-30°C). Water temperatures range between 80°-86°F (27°-30°C).
Tubbataha Reef National Marine Park
Between February and June, the liveaboard boat S/Y Philippine Siren offers 6- and 13-night excursions to Tubbataha National Marine Park, a designated UNESCO World Heritage site. Located in the Sulu Sea at the center of the Coral Triangle, Tubbataha is a marine reserve, made up of two reefs, and considered one of the best scuba diving locations in all of Asia. Home to more than 600 species of fish, 370 species of coral, 11 species of sharks, 12 species of dolphins and whales, and nesting Hawksbill and Green Sea Turtles, diving at Tubbataha is a truly spectacular experience.
The reefs here offer breathtaking diving: vertical walls, drop offs, and pinnacles rising from the depths. The diversity and richness of marine life here is amazing. Shallow reefs teem with an abundance of colorful reef fish and also Spiny Lobsters, Stingrays, juvenile Manta Rays, Leopard Sharks, Turtles, and Guitar Sharks. Covered with Gorgonian Sea Fans, huge Barrel Sponges, soft corals, Black Corals, and Hydroids, the walls offer countless photo and video opportunities. In the deeper waters you will encounter Angelfish, Butterfly Fish, Rainbow Runners, and large pelagic fish such as Trevally, Tuna, and Barracuda. Look for White-tipped and Grey Reef Sharks on patrol. Overhead you will see giant Manta Rays and Eagle Rays soar by.
Along the South Atoll of Tubbataha Reef you will dive at Delsan Wreck, named for the remains of a small ship that sank in this area. The Delsan Wreck dive site is known for the big fish it attracts. You will encounter Eagle Rays and schools of Snappers and Sweetlips. Sharks abound, including Grey Reef Sharks and Black- and White-tipped Sharks. Macro lovers will enjoy the variety of mollusks and crustaceans both around the wreckage and along the wall. Turtles are other common visitors to these waters.
Also along the South Atoll you will enjoy a gentle dive at Lighthouse, with its shallow sloping reef covered with beds of seagrass where Turtles come to feed. Other happy feeders along this reef include Banner fish, Angelfish, and Butterfly Fish.
At the North Atoll, be prepared for the strong and often unpredictable currents that give one divesite, Washing Machine, its name. You will thrill, however, to the marine life these currents bring: Grey Reef and White-tipped Sharks, Hammerheads, and graceful Manta Rays. You will also see large Napoleon Wrasses, Jacks, Dogtooth Tuna, and Pickhandle Barracudas.
Seafan Alley at the North Atoll is a reef wall decorated with large Gorgonian Sea Fans. Feeding along the wall are Long-nose Hawkfish and Pygmy Seahorses. You will also want to keep an eye out for Silver-tipped Sharks, Red-toothed Triggerfish, Barracudas, Tunas, and Sweetlips at this site.
The Philippine Siren's 6-night Tubbataha Reef itinerary departs from and returns to Puerto Princesa. The 13-night itinerary can depart from either Cebu or Puerto Princesa. Included on this trip are both the Tubbataha Reef and Southern Visahan Island itineraries. You can expect air temperatures to average at least 82°F (28°C). Water temperatures are similar, averaging at least 82°F (28°C). Visibility is 80 feet or better (25 m.).
For each of the S/Y Philippine Siren's itineraries up to four dives are scheduled each day. Qualified divers should bring their certification card and log book along with them. Scuba diving with the Worldwide Dive and Sail team is suitable for divers of all levels of experience, although Advanced Open Water diving certification may be recommended for some destinations. Alternate itineraries may be selected if weather conditions present unsafe or unsuitable diving conditions at your chosen dive site.
The Worldwide Dive and Sail team strives to provide scuba divers and vacationers with the safest, highest quality and most innovative liveaboard experience possible. In addition to unmatched scuba diving, guests aboard the S/Y Philippine Siren will enjoy amazing photography and video opportunities, excellent accommodations, and delicious meals as part of their vacation package. Worldwide Dive and Sail dive boat excursions afford guests both safety and comfort as they travel to the best diving locations in the Philippines.