Wind Dancer
The Dancer Fleet of liveaboard dive boats wants you to Dream, Dive, and Discover amazing Cocos Island on an 11-day / 10-night scuba diving vacation aboard the Wind Dancer. A journey to remote Cocos Island may well be the most memorable vacation of your lifetime. Cocos Island, designated by UNESCO as a World Heritage Site, was considered by world-renowned oceanographer Jacques Cousteau to be "the most beautiful island in the world." Because of the spectacular marine life in the waters around Cocos, the Professional Association of Diving Instructors (PADI) named it as one of the ten best scuba diving sites in the world.
Cocos Island Marine Park is located approximately 300 nautical miles southeast of Costa Rica, in the eastern tropical Pacific. The island was formed over two million years ago, and is composed of lava flows and volcanic rock. Four mountain peaks, including Mount Iglesias with an altitude of 2,178 feet above sea level (664 m.), steep cliffs, and a rugged coastline characterize this island and make it virtually impenetrable. Separated by Presidio Peninsula, Chatham Bay on the northeast side of the island and Wafer Bay on the northwest side are the only two points of access onto the island. Unique to Cocos Island is its high-altitude cloud forest, which, when combined with the mountainous terrain and tropical climate, makes Cocos one of the rainiest places on earth. The plentiful rains produce numerous rivers and cascading waterfalls of fresh, crystalline water.
The marine life at Cocos Island is the main attraction and scuba diving in the waters surrounding Cocos is spectacular. Diving experts consider Cocos a "must do" dive trip. Multiple ocean currents converge here, attracting large pelagics in massive schools. Sightings of hundreds of Hammerhead Sharks at a time add to the excitement. You will also thrill to the vast numbers of Yellowfin Tuna, Jacks, White-tipped Sharks, Manta Rays, and the largest of all, the Whale Sharks that appear on virtually every dive. Bottlenose Dolphins, Hawksbill Turtles, Moray Eels, octopuses, and Creole Fish also occupy these waters. Dive enthusiasts, scientists, researchers, photographers, and videographers are understandably drawn to Cocos time and time again.
The rainy season in Cocos runs from May through November. Do not let that deter you, however, as the prime diving season is from May through October. Although the skies may be overcast and rainy, the giants are out at this time of year and you can expect the best encounters. Water temperatures range between 71°F and 78°F (22°-26°C). Cool thermoclines take the water temperatures down to 65°F (18°C). Temperatures can warm up to between 78°F and 82°F (26°-28°C) during the dry season. Because of the prevalence of thermoclines, it is recommended that you use a 3-5mm. wetsuit with hood and booties. You may also find gloves useful year round, as they will help if you need to hold onto rocks. Most of the action occurs at depths of 50-100 feet (15-30 m.), and visibility ranges from 80 to 100 feet (24-30 m.).
Wind Dancer departs from Puntarenas, Costa Rica. The voyage to Cocos Island can take up to 36 hours. Wind and water conditions may cause additional movement of the boat which can be uncomfortable for some. It is recommended that you take precautions for motion sickness during this time as well as on the return crossing at the end of the trip. Weather and sea conditions permitting, you will be able to make up to four dives per day including up to three night dives. Because of the currents and the ruggedness of Cocos Island, beginning divers may find scuba diving here somewhat difficult. This trip is not recommended for new or handicapped divers. All dives should be planned as no-decompression dives. Before making your first dive, you will be required to present your c-card or proof of diving certification to the divemaster. If you intend on diving with nitrox you must also present your nitrox certification to the divemaster. Throughout the week you will dive from custom-designed 22-foot (6.7 m.) pangas.
Scuba diving at Alcyone is considered one of Cocos' signature dives. Alcyone is a 600-foot (183 m.) long seamount, the top of which is 75 feet (23 m.) from the surface. Jacques Cousteau discovered this underwater plateau which is home to a variety of sharks. In addition to schooling Hammerhead Sharks, you will see Mantas and a variety of other schooling fish.
At the southern part of Cocos Island lies one of its most famous dive sites: Dos Amigos Grande (Big Dos Amigos). The huge arch located at Dos Amigos Grande is big enough for an entire dive group to swim through it at the same time. Schooling Hammerhead Sharks are typical at this memorable dive site. You are also very likely to see mating or feeding Eagle Rays and friendly Marble Rays who enjoy approaching the divers and swimming among them.
Dirty Rock is consistently ranked as a favorite dive site, perhaps because of the hundreds of Marble Rays and Hammerhead Sharks that can be seen here. Scuba diving at Dirty Rock is both exciting and impressive. Dive depths range from 20 to130 feet (6-40 m.).
Ubing Rock at Wafer Bay is a 300-foot (91 m.) rock that begins at 20 feet (6 m.) and drops 110 feet (34 m.) to a sandy bottom. Schooling Hammerhead Sharks congregate along the southeast slope of the rock. Other top dive sites at Cocos you may visit include Manuelita, Bird Island at Chatham Bay, and Lone Stone.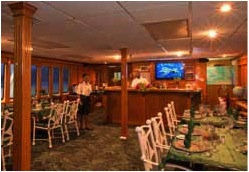 The Dancer Fleet strives to provide scuba divers and vacationers with the highest quality, most memorable and innovative liveaboard experience possible. In addition to unmatched scuba diving, guests aboard the Wind Dancer will enjoy excellent accommodations and delicious meals as part of their vacation package. The Dancer Fleet's dive boats afford guests both safety and comfort as they travel to the best diving locations around the world.